What Can I Do With Motion Timelapse?
Capture a time lapse that's no longer stationary. Want to capture what a sunset looks like over the course of the entire evening? With Motion Timelapse you can now do so across the entire sky.


Getting Started
First, connect your Pod to your smartphone through the Pivo Play (Pivo Pod) app. See the full article on How to Pair Your Smartphone. Once you've paired your smartphone, the app will open in Capture preview. Change your mode by swiping right and selecting Motion Timelapse. You can adjust your settings by tapping the icons on the top-right corner of the Motion Timelapse preview or swipe left to bring up Mode settings. In the Mode settings, tap the help icons to see the tutorial

and Remote Control guide

. To close the Mode settings, simply click on the Confirmation button

or swipe right to return to Time Lapse preview.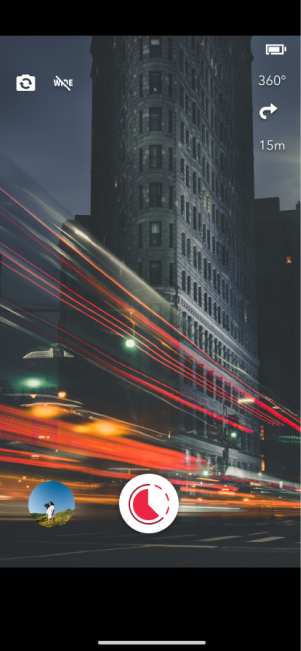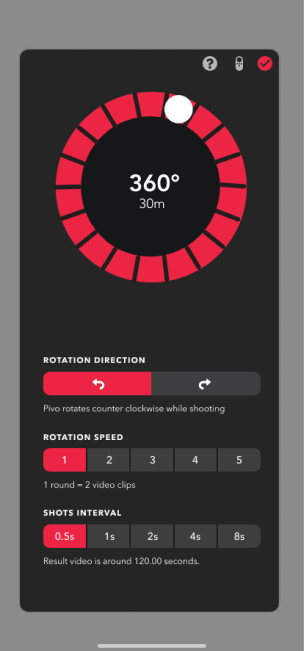 Degree Wheel
Pull the wheel handle to set the angle range of your shot. You can choose any degree from 60º to 360º.

Rotation Direction
When you choose

, Pivo rotates clockwise when shooting. Select

to rotate counterclockwise.

Rotation Speed
Choose the rotation speed to set the recording time. The speed range is from 1 to 6. The bigger the number, the faster Pivo will rotate. The maximum duration Pivo can shoot Motion Timelapse for is 60 min with Pod Red and 360 min with Pod Silver.

Shots Interval
Select your preferred Shots Interval between 0.5s, 1s, 2s, 4s and 8s. The options will vary depending on the Rotation Speed selected.
Motion Timelapse Capture
Simply press the Shutter button to start shooting your time lapse. Tap on the gallery button, left from the Shutter button, to view the contents you've taken. In the top left corner of the screen, you can tap on the icons to switch the camera. While recording, you can pause by tapping the button in the middle.
For best results, align the camera position vertically to Pivo Pod's center. Front and back camera positions may vary.


Remote Control