Pivo Present's Auto Tracking features consist of Face Tracking, Body Tracking and Action Tracking. With these awesome features, you can now focus on your presentation material while Pivo follows you as you present!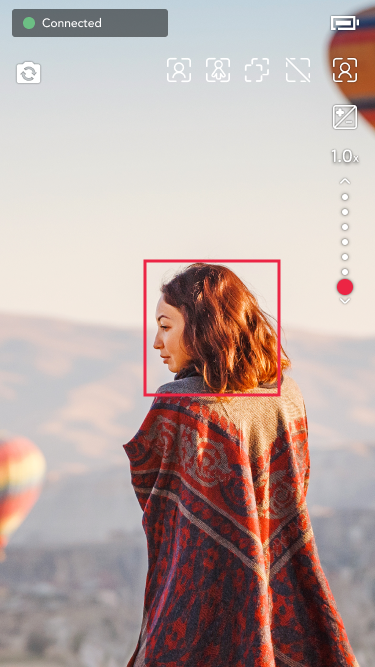 You can select your preferred Tracking mode by clicking on the icon at the top right hand corner of the screen. You can choose between Face Tracking, Body Tracking, and Action Tracking. To turn off Auto Tracking, tap on the No Tracking icon

.
Face Tracking : Detects the frontal view of the target's face. Please make sure Pivo can see your facial features clearly
Body Tracking : Detects the torso of the target

Action Tracking : Draw a box on the smartphone screen to indicate the target for Pivo to track
Tracking Settings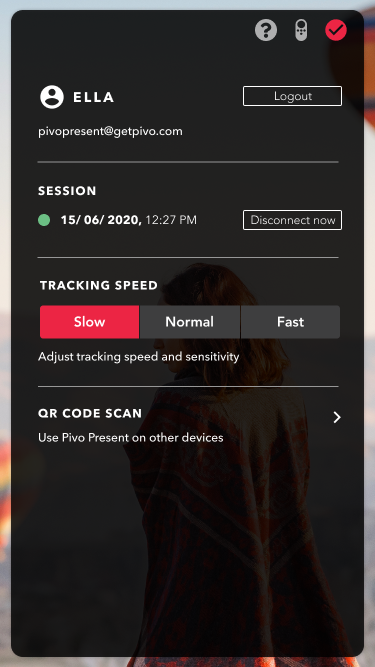 Within the Pivo Present app, you can adjust the Tracking Speed for your Pivo to film anything from a slower Yoga class to a fast-paced dance routine!
Pivo Present comes with 3 tracking speed settings (Slow, Normal, Fast). Slow is a great option for smoother tracking capabilities, whereas Fast can sharply pick up your every move and changes in direction.
You can change the Tracking Speed by swiping to the left on the screen. You can select a different Tracking Speed in the Tracking Settings screen. To close the screen, simply click on the confirmation button
or swipe right to return to the main screen.
Note: The quality of tracking and the range of tracking depend on factors such as lighting, distance, speed of movement, your smartphone camera specifications, as well as the size of the target on the screen. When you're using the Tracking mode, please make sure that the target you're tracking covers at least 10% of your smartphone screen.
Pivo tracks based on image recognition. It'll be great to use Pivo for individual practice. In group situations however, Pivo may pick up another target if they move between Pivo and the original target.