What Can I Do With Panorama?
With Panorama, you can create perfect panoramic shots. And with Pivo, you can be in them too.
Shoot up to 360 degrees in either direction manually or automatically. Pivo's Panorama mode also supports HDR.
Getting Started
1. Connect your Pivo to your smartphone through the Pivo Play app. See the full article on How to pair your smartphone.
2. Once you've paired your smartphone, the app will open in Capture preview. Change your mode by swiping right and selecting Panorama.
3. You can adjust your settings by tapping the icons in the top-right corner of the Panorama preview or swipe left to see the Mode settings. To close the Mode settings, simply click on the

button or swipe right to return to Panorama preview.
4. In the Capture preview - Video Recording mode, tap this icon

at the top left corner, to see the Pod battery percentage, User guide

, Remote Control guide

, and settings.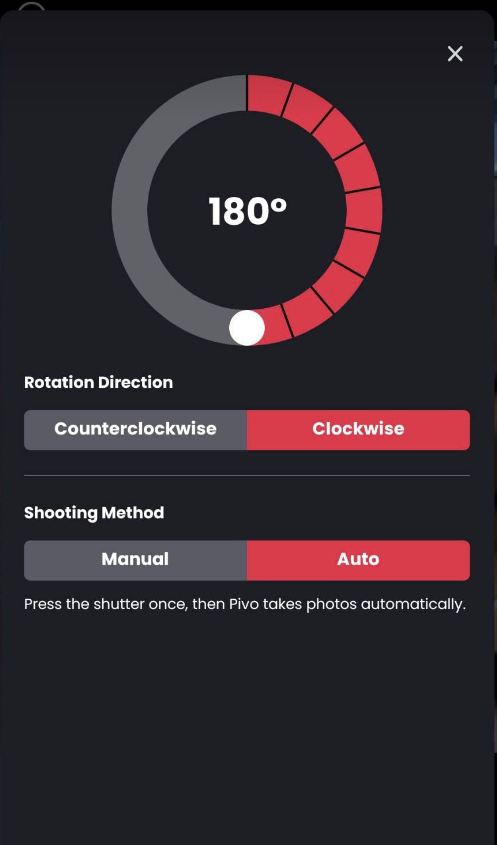 Degree Wheel
Pull the wheel handle to set the angle range of your shot. You can choose any degree from 60º to 360º.
Rotation Direction
You can choose how you want Pivo to rotate, it can be Counterclockwise or Clockwise when shooting.
Auto/Manual mode
When you choose Auto mode, tap the shutter once and Pivo will take care of the rest. Manual mode will allow you to use the Remote Control to fully control when you start taking your Panorama.
Panorama Capture
Tap the shutter button to start shooting. Pivo takes care of the rest. For best results, align the camera position vertically to Pivo Pod's center. Front and back camera positions may vary.
Remote Control