OBS (Open Broadcaster Software) is a free and open-source software for video recording and live streaming. You can stream to OBS using Pivo Live using the SRT settings. Check out how you can do this below:
Note: Smartphone & desktop/laptop should be using the same network
Getting Started - Setting up OBS Studio
Install OBS Studio on your computer.
Make sure your computer/laptop and smartphone are connected to the same network/WiFi.
Retrieve the IP address of your computer/laptop.
Open OBS Studio and define a new input source. Check out this link on how to create a new input source.
- Stream URL: This is a combination of your computer's IP address, an unused port, and the SRT mode (srt://IPADDRESSCOMPTUER:PORT?mode=listener)
- Adjust other settings, if necessary
Check if the unused port (e.g. 49991~9) is opened using netstat for Mac and ipconfig for Windows. Check out this video for more information.
- macOS → Terminal
- Windows → Command line tool

Tips: Check out this link for more information on how to set up your OBS Studio.
Adding SRT channel
Once you're done setting up the OBS studio, follow the steps below to add the SRT channel on the Pivo Live app:
Open the Pivo Live app on your smartphone.
Click on the Add button to open the configuration screen.
On the Add channel screen, select the SRT tab.
Under the SRT tab, fill in the mandatory information:
- Stream Name: The name you'd like to use to identify the channel (e.g. OBS x Pivo Live)
- Stream URL: This is the Stream URL that is obtained from your OBS Studio source
- Stream Key: Leave it empty or type the word empty because SRT doesn't require stream key
Click on More to include additional settings, if applicable:
- SRT sender mode: This is set to Caller on Pivo Live by default. The channel platform receiving the SRT stream must be set to Listener
- Latency (millisecond): This is the delay time for the data to get to its final destination. It's set as 120 ms by default on Pivo Live. This specific delay time will give the packet extra time to recover if it's lost during transmission.
- Passphrase: A password with a minimum of 10 characters is required if encryption is used
- PBkeylen: The key length if encryption is used. The default will be 16, but it can be set to 16, 24, or 32.
- Maximum bandwidth (bytes per second): The maximum output bandwidth that is allowed to be used by the stream. It's recommended to leave it as 0 (because this is the most stabilized bandwidth for Pivo Live).
Click on the Gear icon on the top right-hand corner of the screen to adjust the live stream settings for the particular channel. Click here to learn more about how you can adjust the live stream settings.
Once you're done, click on the Add button at the bottom of the screen to save the channel and return to the home screen.
Recommended live stream settings for OBS Studio
Video Options:
Resolution: 1080p (1920 x 1080)
Frames per second: 30 fps
Bitrate range: 3,000-6,000 Kbps
Keyframe: 2 seconds
Video codec: H.264, Level 4.1
Audio Options:
Sample rate: 44.1 kHz
Channel layout: Stereo
Bitrate: 128 Kbps
Connecting to the Pivo Pod
Once you have added a YouTube channel to your Pivo Live app, click on the Capture button to connect the app to your Pivo Pod. Follow the instructions in this link to connect the Pivo Live app to the Pod.
Going Live on OBS Studio
As soon as you've connected the app to your Pivo Pod, you'll be brought to the capture screen on Pivo Live. On the capture screen, you'll be able to switch between the front and back camera or select your preferred Tracking mode and/or Tracking Preset.
Check out these links to learn more about how you can select your preferred Tracking mode and Tracking Preset:
Tracking mode: Auto Tracking: Face & Body Tracking
Tracking Preset: Tracking Presets & Settings
After selecting your preferred Tracking mode and Tracking Preset, you're ready to go live on YouTube. Tap on the Shutter button and the list of pre-added channels will appear. Choose the SRT channel you've set up for your OBS Studio and tap on Start Live to start streaming. Please note that you can only broadcast to one channel at a time.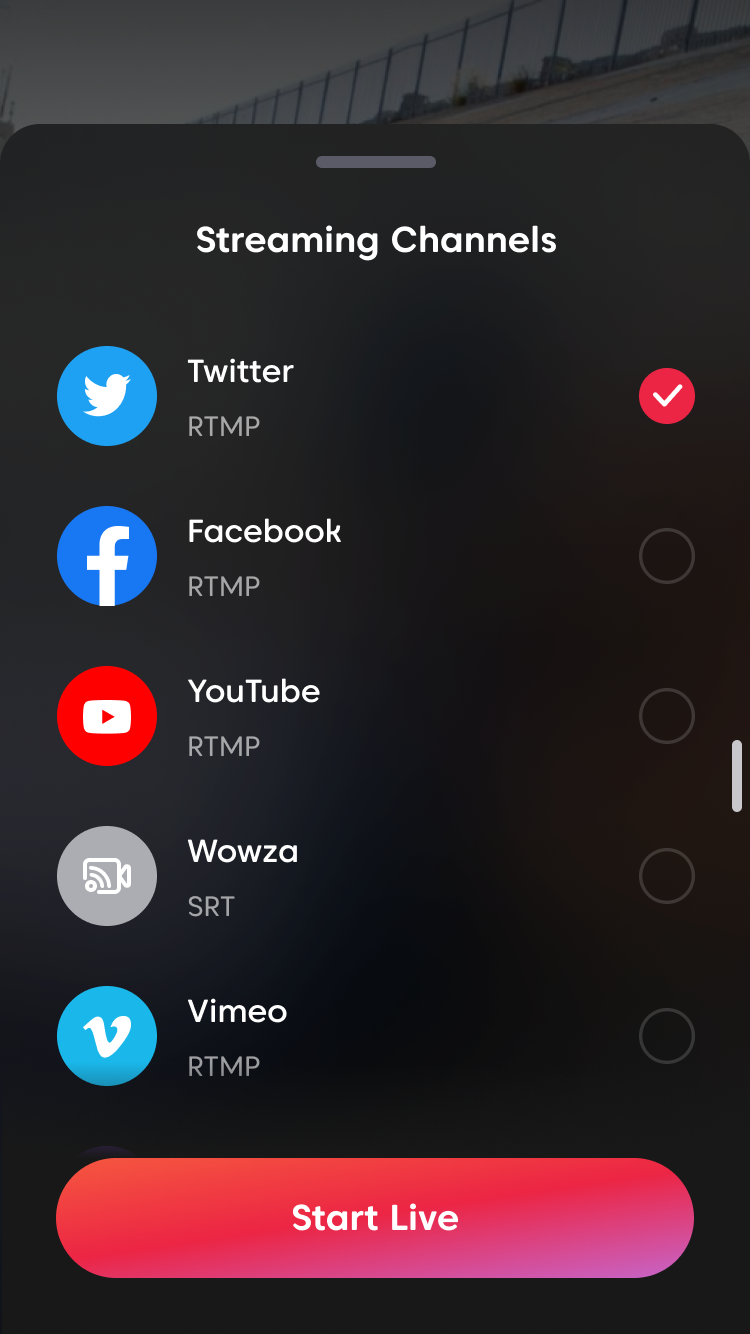 Once you click on Start Live, you'll be brought back to the capture screen where Pivo will start filming.
To end your live session, simply click on the Stop button. A pop-up screen prompting for confirmation will appear once you've clicked on the Stop button. Now, tap on End to end the live session or Cancel to continue filming.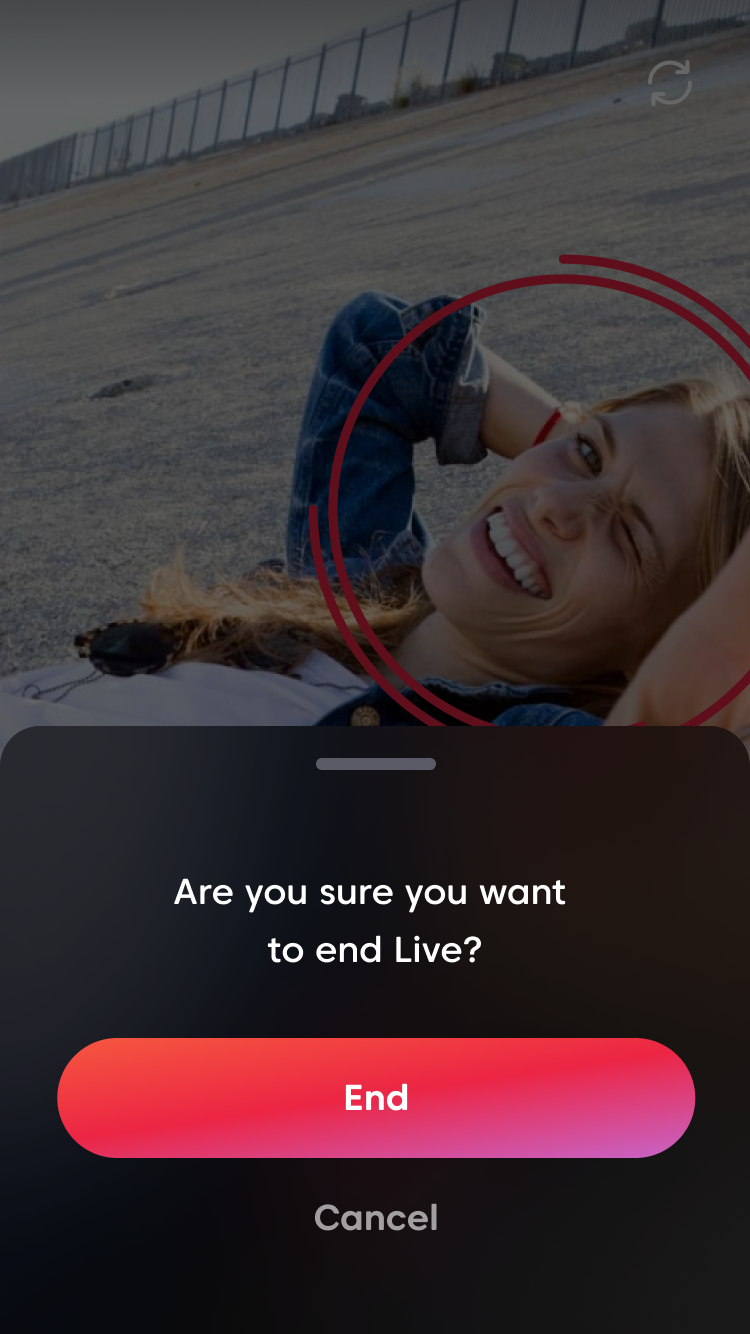 Note: Your phone orientation can't be changed during the live session, so make sure you've set your phone to your preferred orientation (portrait/landscape) before going live.