In Pivo+, there are two ways to customize your Tracking Settings for a smoother Pivo experience. You can either choose to use the Tracking Presets, which is a list of default Tracking settings for the most common activities Pivo is used for, or select your preferred settings based on what you're using Pivo for. This article will cover the step-by-step guide on how you can select the Tracking Settings and what each Tracking Setting does.
You can check out more on how to select, edit or create the Tracking Presets here: Tracking Presets
Choosing your Tracking Settings
Once your Pivo Pod is successfully connected to the Pivo+ app, you'll be brought to the Video mode by default. Scroll the options at the bottom of the screen to switch to Photo or Meet mode. Once you're in the capture screen, click on the Settings icon

at the right hand side of the Shutter button to open Tracking Settings.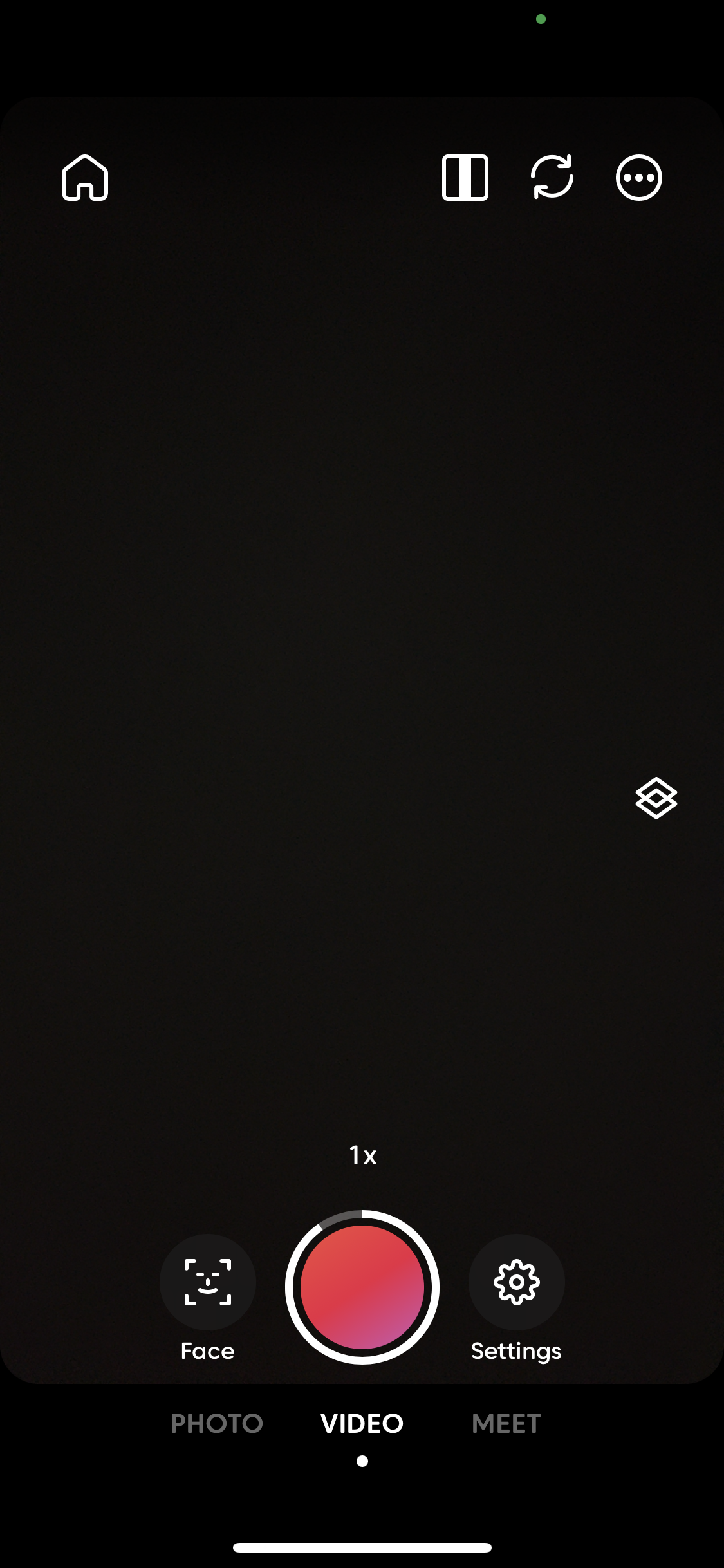 In the Tracking Settings screen, you'll be able to adjust the Tracking Speed, Auto Zoom, Predictive Follow, and Target Exposure depending on the kind of video you wanting to film: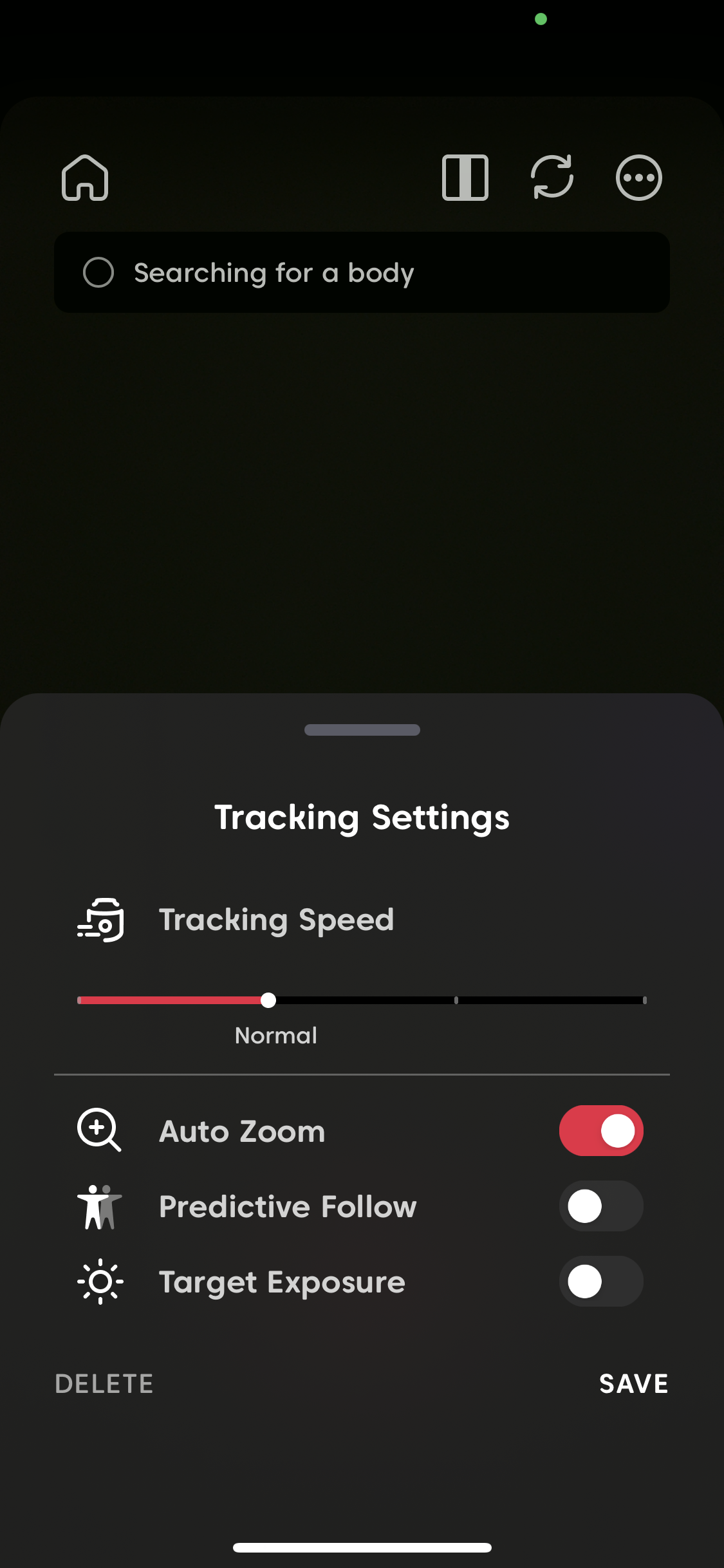 Tracking Speed
Adjust the Tracking Speed and sensitivity of your Pivo here. Pod Lite have 3 Tracking Speed settings (Slow, Normal, Fast), whereas the Pod has 6 Tracking Speed settings (Slower, Slow, Normal, Fast, Frenzy, Turbo). Slow is a great option for smoother tracking capabilities, whereas Fast, Frenzy, and Turbo can sharply pick up your every move and change in direction.

If you're using Horse Tracking, you'll have the option to select the Automatic Speed (beta), where Pivo will automatically detect the speed of your horse and track you based on that. Simply enable the Automatic Speed (beta) option and let Pivo track you as you ride!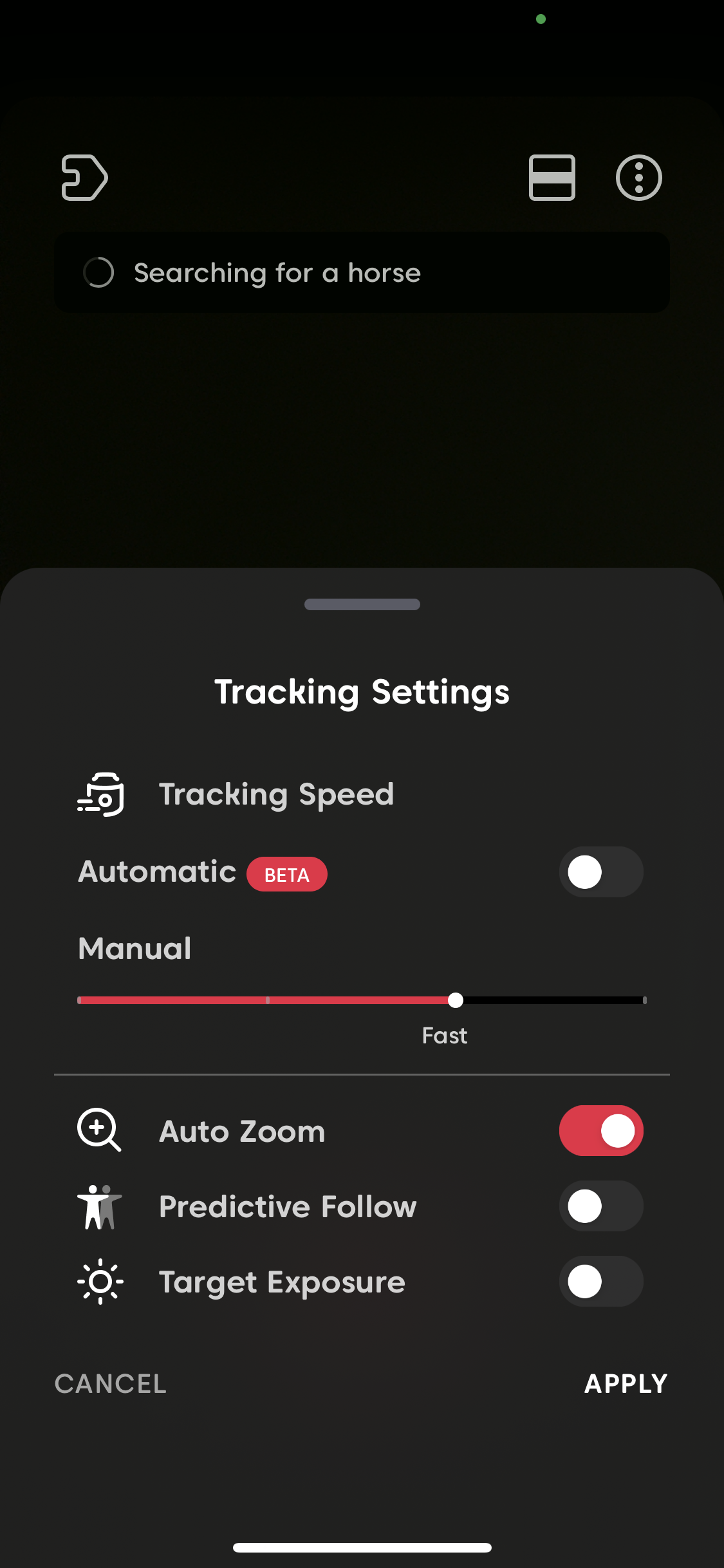 Note: Automatic Speed (beta) is available only for Horse Tracking mode.
Auto Zoom
Auto Zoom is a super cool feature that allows Pivo to automatically zoom in and out on the tracking target in Smart Tracking. When you move far away, Pivo will automatically zoom in to make sure you stay at least 10% of the frame in order to continue tracking you at a far distance. The best part is, Pivo will zoom out again as you get closer to your smartphone.
Predictive Follow
By activating Predictive Follow, Pivo will try to follow you even when you're out of frame. When it happens, Pivo will continue in the direction you were last moving in for 40 degrees more. This is Pivo predicting where it should follow you. If Pivo can't track you after 40 degrees, it'll stop.
Target Exposure
If you're riding in an area with uneven lighting, or in the morning or afternoon where the sun is brighter on one side of the screen, we recommend turning Target Exposure on. With Target Exposure on, your horse will be evenly exposed no matter whether the background gets darker or lighter, and Pivo will be able to track your horse easier.
Once you've selected your preferred Settings, click on Apply to return to the Capture screen.

Other Settings
You can customize your Pivo experience with the different settings available. These settings can be found at the top part of the screen.
Tracking Position: Pivo will keep you on the left, center, or right side of the screen while you're being tracked. Tap on the Tracking Position icon at the top of the screen and select your preferred Tracking Positions to enable the feature.


Switch Camera: Choose to capture from your front or back camera simply by tapping on the the Switch Camera icon .
Note: If you're using Horse Tracking, you'll need to enable the Front Camera option in Settings on Pivo+ home screen before being able to switch the camera between front and back. In the home screen, click on your profile picture on the top right hand corner, and select the enable front camera option.


More Settings: Tap on the 3 vertical dots icon on the right for more settings options:
Grid: Helps you get a level shot. Adjust your phone to your preferred angle and use the grid to help you check if your phone is leveled. Grid is disabled by default , tap on the icon to turn it on
Countdown: Need a signal to tell you when the shot is about to be taken? Turn on the countdown timer by pressing the Countdown icon and Pivo will give you a 3 second countdown before it starts recording the video. represents that the countdown timer is turned on and represents that it's turned off.
Flash: You can tap the Flash icon to turn the flash on/off when taking the photo. means that Flash is turned off and means that it's turned on
Burst (Photo mode only): With Burst, Pivo will take 5 photos for each shot and let you select the best one. It's ideal if you're moving around and want to capture the best pose!
Burst is disabled by default , tap on the icon to turn it on
Smart Capture (Photo mode only): Click on the Smart Capture icon on the middle right hand side of the screen to enable Smart Capture , and let Pivo capture the best side of you while you stay still in motion.